Jake Peavy made some waves with an appearance on WSCR-AM 670 in Chicago last Saturday, implying that Ozzie Guillen quit on the White Sox last September by stepping down as manager with two games remaining in the season. Here's part of his comments, via Dave van Dyck of the Chicago Tribune.
"I know he had a hard time, saying I quit on him, which couldn't be further from the truth," Peavy said. "I would never quit on a team. … Ozzie didn't finish the season with us the last (two) games. So I don't know who quit on who."
Those comments apparently didn't sit so well with the outspoken Guillen, who took to Twitter last night to unleash the following (hat-tip to Angie Wiatrowski of CSNChicago.com):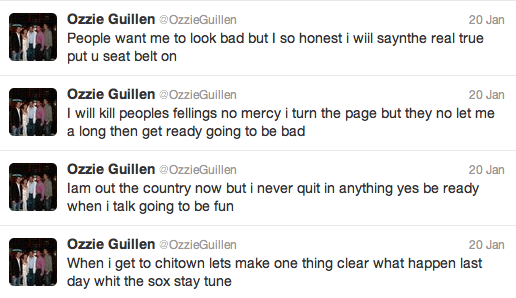 Uh-oh, killing people's feelings? This could get interesting. Stay tuned, as I know you're all waiting with bated breath to see how this situation plays out.