The Braves are going to sport a new home alternate jersey next year. It hasn't been officially announced yet, but it was leaked by someone earlier today. I saw it over at Big League Stew. This is supposedly it: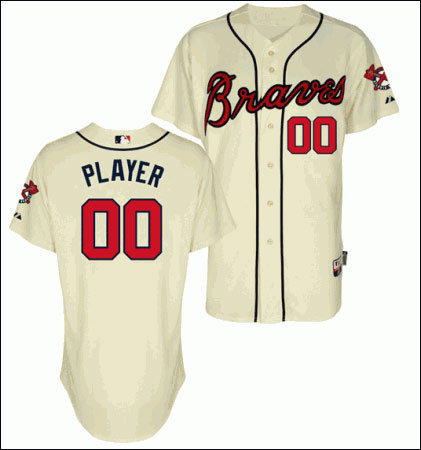 The differences: It's cream not white.  There's no tomahawk under the lettering, though there's still a tomahawk on the sleeve patch. There's no red on the piping along the buttons to go with that blue. No piping on the sleeves at all.
Not radical, but kind of cool.  Certainly better than those red alternates they wear on Sundays. Which they still may wear, we don't know.  No word on caps either, though I think the road cap they wear — solid navy with no red bill — would look pretty sweet with this new one.
Then again, I wear an Indians block C hat all the time and I currently have a Brewers sausage race t-shirt on, so it's not like I'm an authority on the sartorial stylings of my favorite team.