Disturbing the peace charges were dropped against Rockies left-hander Drew Pomeranz, his agency Beverly Hills Sports Council announced earlier today.
Pomeranz, who was acquired from the Indians last July as the centerpiece of the Ubaldo Jimenez trade, was arrested in Oxford, Mississippi in mid-October following an incident after coming out of a bar with friends.
The 23-year-old southpaw wrote the following on his Twitter account earlier this afternoon: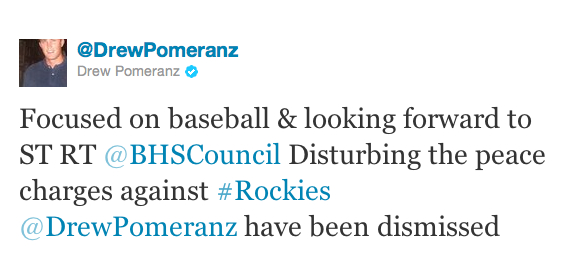 Pomeranz, the fifth overall pick of the 2010 First-Year Player Draft, had an excellent 1.78 ERA over 20 starts in the minor leagues last season before posting a 5.40 ERA and 13/5 K/BB ratio in 18 1/3 innings with the Rockies as a September call-up. He's expected to open the 2012 season in the starting rotation.