Every superhero has an origin story. This is the origin story for Saber Boy.  The scene: last night, after Randy Miller of the South Jersey Courier-Post revealed that he was one of the nine Hall of Fame voters who submitted blank ballots. Friend of HBT, Bill from The Platoon Advantage, inquired about his voting approach on Twitter.  Watch as a legend is born before your very eyes:



And now, behold Saber Boy, in all of his glory, as conceived by Sarah Wiener.  Who is now selling t-shirts with His likeness: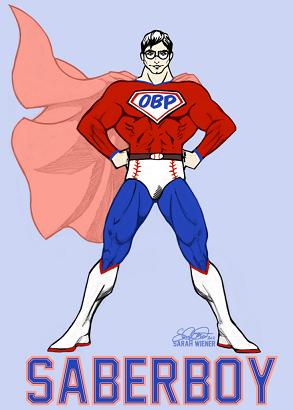 Bill has gone all-in with this, changing his Twitter handle to @Saber_Boy and everything.  At least temporarily.  As he says, he's "The hero the BBWAA needs, not the one it particularly wants right now."
I still think Batman is the best, but Saber Boy may actually be more relevant to my life.