Well, I guess it depends on the expression he has at the time.  Here's Alex Rodriguez — caught at the Lakers-Rockets game the other night — talking to Cindy Crawford of all people.  First up: the nerd look: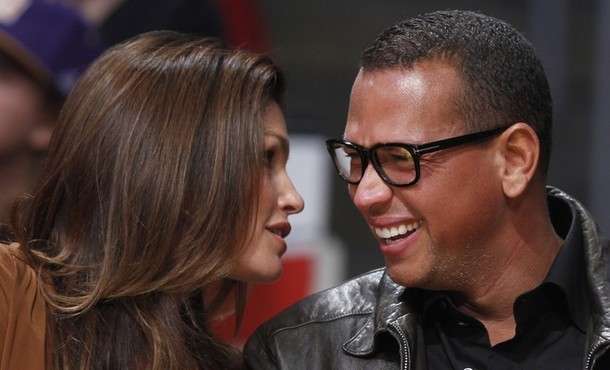 But then when he's not scrunching his face up all silly he looks less nerdy and more hipstery: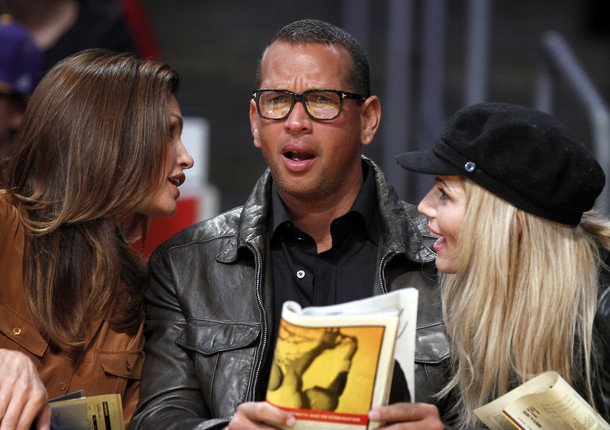 As the proud owner of hipster glasses myself, I feel like I can speak with at least a little authority on the matter. If you're going to go with such a look, you don't want to suffer by comparison. I wear kinda nerdy glasses, so all I need to do to not be totally silly (I'll always look a little silly) is live up to at least one nerd archetype like Michael Douglas in "Falling Down" or something.  I'm old, white and angry, so it's not too hard.
But that's A-Rod's central problem: he really can't pull it off. Those, as far as I can tell, are Persol glasses. Marcello Mastroianni wore Persols in "La Dolce Vita." Steve McQueen wore them in a couple movies.
Mr. Rodrigez: I watched Mastroianni and McQueen. I knew Mastroianni and McQueen. I'd like to think Mastroianni and McQueen would be friends of mine. Mr. Rodriguez, you're no Mastroianni and McQueen.
(Photos by Reuters)