It's been a strange first day of the Winter Meetings for me. The Hilton Anatole here in Dallas is larger than some European countries, and getting from place to another is a major undertaking. There's also stuff like this all over the place: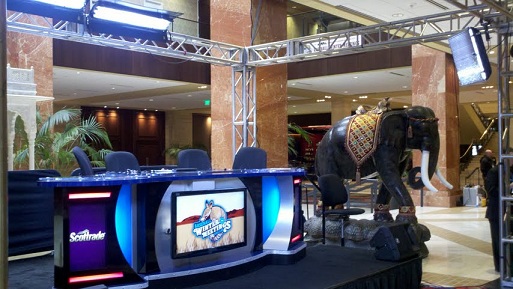 There's a matching elephant just out of the frame on the left.  I don't know either. It goes with the giant atrium. Everything is bigger in Texas.
Also, this morning was on a panel for the Sports Management World Wide Career Conference. Joining me was ESPN's Jayson Stark and Biz of Baseball's Maury Brown. Here's us. We're cute.  The topic: the new collective bargaining agreement and its implications.
Stark noted a couple of times that this or that issue wasn't totally settled yet even though the agreement is done.  It sort of dawned on me as he was talking that there are many, many such things and that in a lot of ways this CBA is literally half-baked.  It's almost as if the union and the league are so comfortable with each other and have such a clear mandate from their constituencies (i.e. the owners and players) that they sort of took a "don't worry, we'll figure it out" approach.  It's just worrisome.
There haven't been any signings or deals since the Reyes thing last night, but much continues to go on down here. Several managers are going to walk in here in a little while and let us ask them questions. As per tradition, I plan on asking them if they would like Hideki Matsui in their lineup.
More later.