Via about 12 different reporters in my Twitter feed a few minutes ago, we hear that the Athletics have announced they're in negotiations to move their Spring Training operations from Phoenix Municipal Stadium to HoHoKam Park in Mesa, Arizona.  HoHoKam will be empty starting in the spring of 2013 because the Cubs are vacating it for a megaplex elsewhere in Mesa.
This disturbs me a little bit. Why? Because this is Phoenix Municipal, where the A's reside in February and March, and which I had the privilege of visiting last spring training: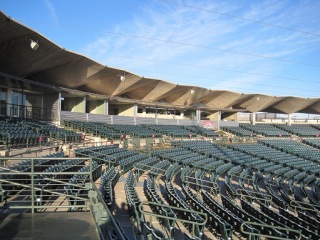 To your less-than sophisticated eye it may appear to you as some random 1960s public stadium, but it is so much more. Note the poured concrete facade. Note the proletarian seating You can't see it in the pic, but I assure you, there is speckled tile flooring and painted cinderblock walls all over that joint.
Now, this may be off-putting to you — it may put you in mind of some government building in Brasilia or something — but I not-so-secretly love buildings like this.  Yes, they can be hideous in their Brutalism, but they're comforting to me.  They remind me of my elementary school. They remind me of Denney Hall on the Ohio State campus, where I probably spent most of my in-class time as an undergrad.  They remind me of the state office building I used to work in.  I have good memories of those places, as rotten with 1960s-70s poor design choices and asbestos and stuff as they are.
Put simply: I really liked Phoenix Municipal. It probably fails on just about every level from the perspective of a team wanting to make the most out of the spring training experience. And I'm sure if I spent more than two days there I'd have my own complaints. But selfishly speaking, I'd be sad if the A's moved out and no one else moved in.