I was invited, through Craig and MLB's PR people, to attend and report on the premiere of the 2011 World Series Film on Tuesday night in St. Louis. I've been writing professionally about baseball since 2008, but it was the first time I had covered any sort of live event with a media badge and access to players.
I probably shouldn't mention that. Amateurism is in no way redeeming. But I've had trouble thinking of ways to recount my experience in a straightforward way, like a seasoned member of the media would. And so rather than fake it, I'll offer you full disclosure.
I moved to St. Louis when I was nine years old and have lived in or around the city for the past 15-plus years of my life. I'm a Cardinals fan. I write about baseball six days a week in an objective way and I find it easy to dissociate work with personal rooting interests. But I'm a Cardinals fan. Maybe that will fade as I begin craving provocative stories over home-team victories, but it hasn't yet and no one has told me that it must.
******************
The film premiere was held at the Peabody Opera House in downtown St. Louis, a few blocks west of Busch Stadium. Originally founded as the Kiel Opera House in 1934, the 3,500-seat theater hosted countless plays, musicals, operas and concerts until 1991, when it was closed along with the adjacent Kiel Auditorium for the development of a new hockey arena — currently called the Scottrade Center, home to the Blues.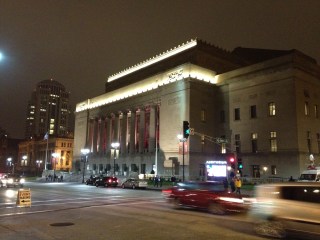 In the summer of 2009 the St. Louis Board of Aldermen agreed to subsidize renovations of the Opera House, and it reopened in October of this year with a debut benefit featuring Aretha Franklin, Jay Leno and hometown hero Chuck Berry. I saw Wilco there just a few days after the grand opening.
The place is absolutely gorgeous, and it becomes obvious upon passing through the entrance why the the city's decision-makers decided to put forth tax dollars to assist in getting the building back.
Great theaters, like great baseball stadiums, affect you the moment you walk into them. They take you somewhere. At the old Yankee Stadium, there was a buzz of expectation. At Wrigley Field, it's like being thrust into a frat party. Inside the Peabody, it still feels like the 1930s. It feels like everyone should be wearing tuxedos. I wore jeans, a jacket and a button-down.
******************
The check-in table for members of the press was tucked next to the theater's loading dock, beyond a double-door that read "Employees Only." I gave the man at the table my name and media affiliate, he gave me a media pass, and a woman directed me on a minute-or-so walk to the red carpet area inside the Peabody's foyer, where hundreds of dressed-in-red Cardinals fans were already gathered with cameras at the ready.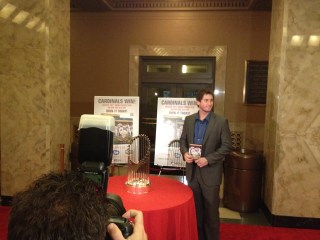 I introduced myself to a few of the baseball writers I recognized and chuckled upon hearing discussions of Deadspin's Dan Lozano takedown as I waited with St. Louis' finest news anchors, cameramen and radio jockeys for the arrival of the evening's VIPs.
David Freese was the first to show. The place went nuts as he walked in, was handed a copy of the World Series Film DVD, and stood smiling next to a display featuring the World Series trophy.
Kyle McClellan entered the room next, followed by Cardinals radio announcers Mike Shannon and John Rooney, and television announcer Rick Horton.
I took pictures while reviewing in my head a couple of questions I had prepared to ask Freese, the night's primary draw. "What's the best experience you've had since winning the World Series?" "How do you deal with raised expectations locally but also nationally?" "What is your relationship with new manager Mike Matheny?"
******************
When the photo-ops ended, the interviews began. Freese was hustled around to various clusters of reporters and cameras as I stood a few feet away and held out my iPhone, hoping to record some interesting quotes. MLB's PR manager must have taken notice of my helplessness, because he hollered at me over the crowd and pointed to a spot at the end of the red carpet where I might be able to fit in a few questions.
As Freese made his way to the final few stretches of red matting where I was standing, I heard the questions I had prepared — all of them — being asked over and over again by other reporters. Freese didn't budge, giving long and thoughtful answers to each inquiry, however repetitive. But I figured it was time to pull an audible.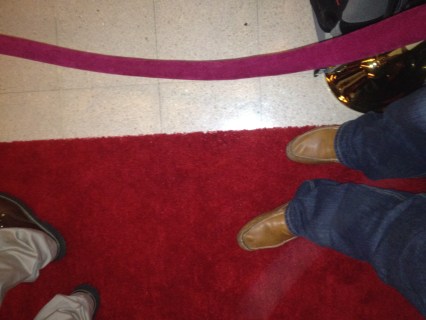 "Has the media attention grown to be overwhelming or are you able to still enjoy it?," I efforted.
"Yeah, I mean, you understand that it comes with the territory. I get it. Everybody's got a job to do, so you take it in stride," Freese responded. "You've just gotta manage it. Everybody's gonna come after you, but if you have good people behind you and you schedule it right… you can take care of business."
I shook Freese's hand as he was shooed away to the VIP reception behind us, where St. Louis dignitaries waited to greet him while dining on local favorites like toasted ravioli, St. Louis-style pizza and ice-cold Budweiser bottles. There was also a large Anheuser-Busch ice bar in the front of the reception room, and I wondered to myself for a moment if they might be accepting applications to blow-torch the thing once the event was through.
******************
I was given an aisle seat in the sixth row for the screening, among a few of the baseball writers whom I had met before. I chatted football and music with MLB.com's Matthew Leach, a writer I've admired for years, and I got a few texts from friends in the sold-out crowd who were wanting to know how I scored such great seats.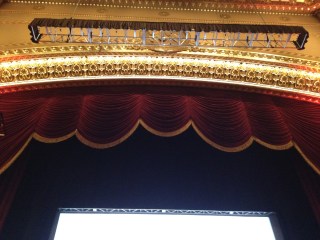 The movie was fantastic. NFL Films draws awards and praise for the pieces they put together each year, but MLB Productions deserves just as much acclaim. Jon Hamm, a St. Louis native, was perfect for his narration role. The tight-shots of the on-field celebration were spectacular. And the crowd in the Peabody responded to the scenes as if the Cardinals were playing one final victory-lap game.
When Freese launched his Game 6-tying triple over the head of Rangers right fielder Nelson Cruz, the place erupted. People were actually taking pictures — with flash — of the screen. When Freese ended that wild Game 6 with a walkoff home run just a few highlights later, nearly three-quarters of the premiere attendees were on their feet, high-fiving and screaming.
I didn't cheer or applaud because I felt like enough of a rookie already. When the film hit the ending credits and the lights came on in the theater, I took a few final pictures of the crowd and headed toward the exit.
On the way home, I grabbed a fountain Pepsi and blasted the Fleet Foxes' "Helplessness Blues."
******************
I grew up wanting to be a sports writer — one with access, a dedicated readership, and a license to once-in-a-lifetime experiences — but I've always had an awareness of the mountain one has to climb in order to secure such a position. It never seemed attainable. I guess I don't completely feel that way anymore.