It doesn't get much closer than this when it comes to a couple of MVP candidates.
Player A:  .332/.397/.597, 33 HR, 111 RBI, 109 runs
Player B: .324/.399/.586, 39 HR, 126 RBI, 111 runs
But then you add in that Player A played a pedestrian-to-bad left field and Player B played a good center field, and it should tip it in B's favor.
Except I have a pretty strong feeling that it won't this time, because Player A — Ryan Braun — played for a division winner and Player B — Matt Kemp — did not.  And when such a state of affairs exists, MVP voters are almost always going to go for the guy on the winning team.  I bet Braun takes the hardware and that's not nearly as close as it should be.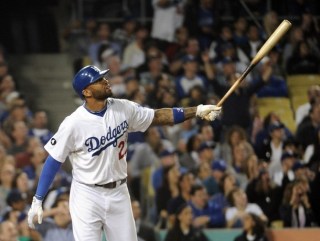 To be sure: Braun winning will not be a miscarriage of justice. He had a fantastic season. I'm just saying he wouldn't be my choice.
I'm more animated — in advance — that a lot of people who cast their ballot for Braun will likely have done so on the basis of his team's performance, which seems so beside the point to me.  But that's what you get when you have the word "valuable" right in the title of the award.  It it were about the most outstanding player it wouldn't be as tricky, but the concept of value seems to demand something for it to serve, and in this case the voters tend to see that as team goals, not individual accomplishments.
Which is troublesome to me because it's all based on a fallacy that games in which non-contending teams play are somehow less important than games involving contenders. Maybe they are to those of us who write about baseball and thus focus on playoff implications. But are you telling me that Matt Kemp didn't take the games in which he played as seriously as Ryan Braun did? That the pitchers he faced let up?  I don't think anyone would have the guts to even ask Matt Kemp what he thought about that concept, so basing an awards vote on it seems silly to me.
Oh well. We'll see at 2PM eastern.