Every year something happens in the offseason that makes me think that I can't handle the looniness anymore. That the hot stove season has reached its nadir. After which I say that I cannot handle another weird rumor or report. When I say "not again. The line must be drawn here! This far, no further!"
That usually happens in mid-January.  This year it happened on November 16, in a tweet from Gordon Wittenmyer of the Chicago Sun-Times: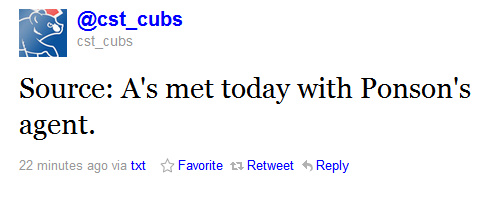 Sideny Ponson. Who hasn't pitched since 2009 and hasn't pitched well since 2003.  I'm going to assume for the sake of my sanity that the A's official in question is the brother-in-law or college roommate of Ponson's agent and that the meeting was a social affair.
If not, I'll be in the bar.  Until mid-February.