Via our brother blog Off The Bench comes a report in the Miami New Times previewing the Marlins new uniforms which, while not yet officially announced, seem to be happening thusly: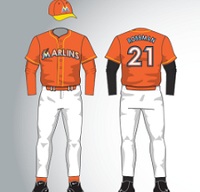 That's an alternate, apparently. If you click through to the Miami New Times article, you see the regular white and gray. There's a black too. The road gray has a blue cap version.  It's sort of a multi-color mess, but again, I think if it's OK for anyone, it's OK for the Marlins. They look no worse than the Dolphins and Hurricanes. Which, yes, look generally OK because it's Miami and they can get away with that there.
People will mock, but I don't think it's justified. I think a team born in 1993 rocking a quasi-classic like pinstripes all these years was way more silly.