In the wake of my Michael Young post from yesterday, I was drawn into a little Twitter skirmish with Evan Grant of the Dallas Morning News, who called the post "boneheaded," and said I didn't understand or appreciate Michael Young.
What Evan missed, I think, was that I wasn't criticizing Young as much as I was being critical of the coverage he receives that seems to sweep all of his flaws and foibles under the rug as if they never happened.  Despite our conversation, Evan didn't quite come around to my way of thinking. But then again Evan recently made the argument that Young should be the American League MVP this year, so I think it's safe to say that he himself is one of many who get stars in their eyes when the topic of Michael Young comes up.
We've seen this sort of thing before, haven't we? Indeed, it's very much like the Derek Jeter dynamic. The dynamic in which it's not enough to say that he's a fine player, he has to be considered the best, and let no one give voice to the notion that his game has declined or has a flaw or three. In which his missteps, to the extent he has them, are invariably cast as strengths or, at the very least, explained away by his passion and leadership.
Jeff Bradley of the Star-Ledger makes the comparison today. I don't think he's being critical like I am when he makes it, but in some ways that makes it all the more telling:
In many ways, Young is the Jeter of Texas. So many similarities when it comes to demeanor and, as Young has said, the approach to the game they share. Play to win. Do what is asked. Don't make excuses.

However, because we are provincial, because we live and work in the New York market, and focus so hard on "our" players, we probably never thought of Michael Young as a player who should be mentioned in the same sentence as Derek Jeter, the Yankees captain.
What follows is the same fairly non-critical assessment of Young's history of moving positions in Texas. Bradley misses one earlier instance of Young pouting at a position move (when he had to move off short for Andrus) and there isn't much scrutiny of how a man can still be considered a great team leader when he twice bristled publicly because he was not getting his own personal way and playing the position he wanted to play despite there being better options available to the team.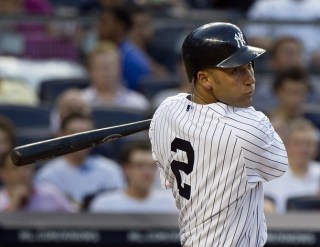 But that's how the Michael Young narrative has evolved, has it not?   Like Jeter, he puts people in the strange situation of having to say a great player is overrated because it's not enough for most people to assess him for what he actually is. Instead he is cast as Lord of the Intangibles and, like Jeter, that story of his intangibles won't accept the unpleasant truth that, at times, he has behaved in ways we don't normally associate with leadership.  Not that he's a bad seed or a bad player or anything close to that. He isn't. It's just that he's not as perfect as his local press makes him out to be because, hell, no one is that perfect.
Like with most players, there is an ego, however understandable and limited, at work there that has led both Jeter and Young into a couple of unfortunate stances. Yet they catch little if any hell for it and woe be to the person who tries to point it out.  These players are teflon and they have a small security force of fans — including some journalists — who defend them as if they were bound by an oath to do so.
I suppose observing all of this means that I am a boneheaded hater.  If so, I suppose I'll just accept that and hope that one day Michael Young will find it in His heart to offer me absolution.
That's how it works, right?