Every time I read a story about Bryce Harper I have to remind myself that he's still only 18-years-old and that, on the whole, 18-year-olds are pretty much awful in every respect.  Or at least honest in a "I don't know nor do I care what other people think" kind of way. Which is usually fine because who cares what an 18-year-old says.  It's only when they're in the public spotlight when it becomes an issue.
And Harper is in the spotlight.  And Harper grew up a Yankees fan. And, unlike every other pro ballplayer who checks his youthful fandom at the door when they star their career, Harper hasn't really done that yet.  The evidence: his Twitter feed from last night, which was saved for posterity by Mike Prada at SB Nation DC: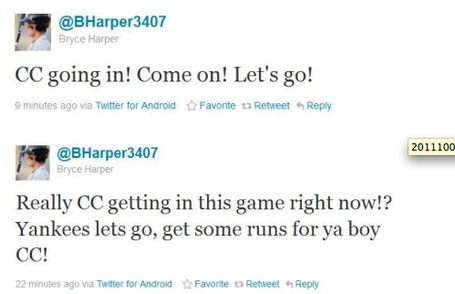 Those tweets were subsequently deleted, and this one came down: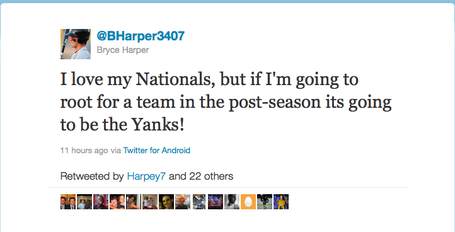 It's a small thing. But the code of major leaguers — which Harper will be before he turns 20 — is that you don't root for other teams like that.  Maybe you root in a subdued way for a personal friend to have a good series, or maybe you offer mild congratulations, but you pretty much have to check the rah-rah stuff at the door once you start getting the pro paychecks.