The first thing you'll read in any story about tonight's Yankees-Tigers game is that the Yankees are throwing out A.J. Burnett in an elimination game.  And yes, that is far from ideal given how unreliable Burnett has been since arriving in New York. He wouldn't have gotten a start absent last Friday night's rain, and a couple of less-than-disastrous outings in September aren't really enough to instill confidence. Yankees fans can say they are hoping for a nice showing, but they won't bet too much on the proposition.
But at the same time, let us not overlook the fact that Burnett isn't the only shaky guy in tonight's game.  The Tigers are running out Rick Porcello who, in the past two seasons, has himself been pretty awful, posting an ERA+ of 85 in 2010 and 86 this year, which is pretty A.J. Burnettian himself.  While Burnett can often run hot-and-cold in a single game (usually early and later, respectively) Porcello runs hot and cold by month, it seems, with his lackluster ERA the result of a couple of disaster months (June and August).
I guess the point is that given the anxiety A.J. Burnett has instilled in the Yankee Universe these past couple of years, yes, the talk of impending doom for tonight's game is justified.  But let's not pretend that it's just the Yankees relying on a wobbly starter in a big playoff game. Porcello is no one's idea of an ace, and the Yankees' slumbering bats could very well get to him.  As such, it's about the best circumstances under which one can run old A.J. out there.
All of that said, if you rock a pic like this in your Facebook profile or whatever today, you had best not be complaining if Burnett lays an egg tonight, OK?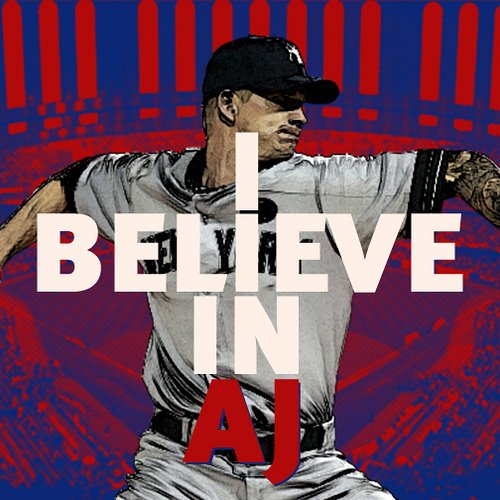 (pic via reader Mike W. on Facebook, though I have no idea who created it)