Sometime later today you're going to notice a minor change to HBT and the other NBC SportsTalk blogs.  At the bottom of each story there will be a little navigation bar we call the Story Explorer.
The idea is that once you've finished reading a post you will be able to browse and then — if you're so inclined — navigate to other posts on the blog without having to go back to the homepage.  Those of you who have used them should recognize that the Story Explorer is rather similar to the mode of navigation used on our iPhone, iPad and Android apps.
The Story Explorer is currently live over on our outdoors blog, From the Lodge.  Click over and check it out. And, while you're there, feel free to learn where the deer are currently rutting.  The vegans and PETA members among you can just look at this screencap: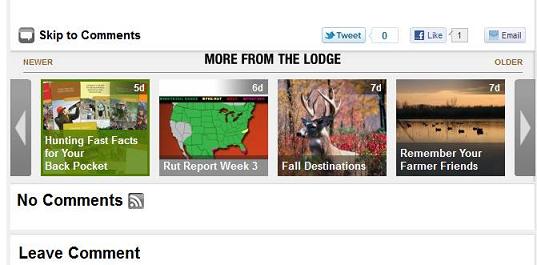 I've been messing with this thing for a little while now, and I really like it. I hope you do too.  And, of course, I hope it works.  To that end, please feel free to give us feedback on it once it goes live later today. Let us know if you like it, what, if anything, you'd change about it, if you like the location below the stories and that sort of thing.
Keep calm and carry on.