My comment about the Yankees-Red Sox game in the recaps was a little grumpy this morning. But I should admit that I did at least learn something valuable watching the game.  I learned what is and what is not an acceptable form of celebration following a home run.
Remember from Tuesday night's game that this — unsportsmanlike hand-clapping — is a big no-no and will get a ball thrown at your back:
Last night, in contrast, we learned that this — opening one's arms to Heaven and thanking God Almighty for smiling upon you and you alone and for bestowing His glory upon you at the expense of your adversaries —  is perfectly acceptable: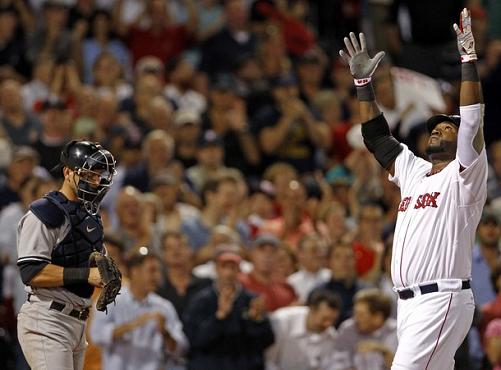 Note: pay no attention to those crazy people who observe that this move could also very easily be interpreted as a player saying "Look at me, aren't I fabulous? Behold, those who witness my accomplishments! Behold and raise your voices to cheer for me!"  Because that is not what he is doing. At all. Perish the thought.
Now, isn't that easy enough to remember?