Few would disagree that the Cardinals and Reds have the most active rivalry in Major League Baseball. Yanks-Sawx is classic, Giants-Dodgers is still plenty heated, and Cards-Cubs tends to draw to great interest, but the Redlegs and Redbirds genuinely seem to dislike each other. And that same sentiment is shared by the competing fanbases.
Two games into this weekend's three-game set at Cincinnati's Great American Ballpark, the tension is as potent as ever. On Friday night, the Reds won in walkoff fashion thanks to a Brandon Phillips ninth-inning blast. But the back-and-forth game looked to be in the Cardinals' hands just an inning earlier, when resurgent slugger Albert Pujols ripped an Aroldis Chapman pitch high into the left field seats to give St. Louis a 5-4 eighth-inning lead.
Pujols is booed heavily by Reds fans when he steps to the plate in Cincinnati, as is teammate Yadier Molina.
Here is Albert's post-homer reaction to those boos, via a screen-grab by Reds fan Joe Lankford: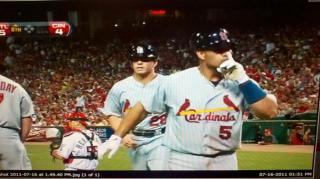 Cardinals right-hander Chris Carpenter operated well in damage control over eight innings on Saturday and Pujols homered again to give St. Louis a 4-1 victory. The series finale gets underway at 1:15 PM ET.