For reasons outside of my control — let's just say the video feed for HBT Daily barfed on itself this morning — we weren't able to get to all of your Twitter questions.  And I had some saved up for the video too!  Well, waste-not, want-not, I always say, so here's what we would have gone with:
Q: True or False: Frank McCourt will no longer be the owner of the Dodgers on August 1.
False. Oh, he'll say he is, and he'll act in some sort of deluded manner in which he pretends he is, but MLB will be running the show, and I think that's whether McCourt sues or not.
Q: You can have only one for the rest of your life: bourbon or pie?
This is all about substitute goods.  Would I suffer more by eating pie while drinking scotch because I have forsaken bourbon, or will I suffer more by drinking bourbon while trying to make due with cobbler?  I hope I never have to make such a Sophie's Choice, but cobbler is pretty solid, folks. That's all I'm sayin.' Cobbler is pretty solid.
Q: What realistic moves do you see the Tigers making at or near the trade deadline?
They have a lot of spare bullpen arms and a need for a bat, so that's something. There are so many teams that think they're in it, however, that there will be way more buyers for offense than sellers at the deadline, I presume. In light of that, I wonder if they can do any better than a fourth outfielder type. Luke Scott at the toppermost, right?
Q: Thoughts on MLB.TV blackout policy?
To quote a wise man: If you can take a man's life for the thoughts that's in his head, then sit back in that chair and think it over, judge, one more time, and let `em shave off my hair and put me on that execution line.
Q: Noting that Maker's Mark is the house pour; if you go higher shelf do you go Booker's or Woodford Reserve?  Show your work.
I'm conflicted on the matter: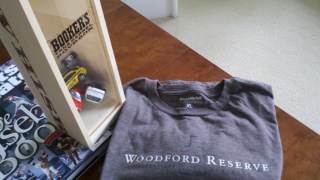 And yes, those are Hot Wheels cars in the Booker's box, because yes, I let my son play with the empty Booker's boxes. The little plastic cover combined with the wood box makes for great Hot Wheels ramps. And I'm sorry I only have a Woodford shirt, not a bottle, but those don't last long around here when we have them.