Strong leaders have used political decoys for centuries. While primarily a security tool/assassination defense, political decoys can be an effective means of political control as well.
Indeed, if prudently deployed, they can make the leader appear more robust and active than he otherwise is, showing up on battle lines, shaking his fist defiantly at those accursed rebel fighters in the morning and appearing at the unveiling of the 50-foot statue in his likeness at the central square of the capital city that same afternoon (with statue portraying the leader shaking his fist defiantly at those accursed rebel fighters).
It's really a fascinating concept, even if it's one that I was wholly unaware of until the highly underrated movie "Moon over Parador" was released in 1988.
In related news, Tony La Russa is a strong leader who, at present, is somewhat incapacitated. Taking a page from the book of Manuel Noriega, Raoul Cédras, Enver Hoxha, Fidel Castro, Saddam Hussein and Kevin Kline in the movie "Dave," La Russa employed a decoy at the exchange of lineup cards before this afternoon's Cubs-Cardinals game.
While the information is highly classified, our spies tell us that the decoy is actually Kyle Lohse in a wig.  Which, if it wasn't evident from the pic to the upper right — a screencap posted to Twitter by @sportshuman — is clearly evident based on the tattoos in the pic below, posted to Twitter by our own Drew Sliva: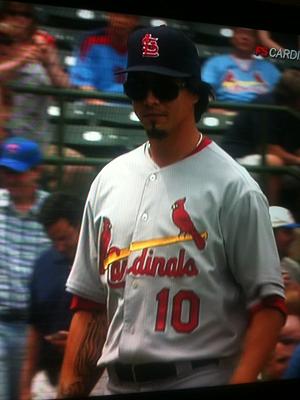 Get well soon, Dear Leader!
UPDATE:  And now video!