He didn't admit it in so many words, but here's what he said to Gwen Knapp of the San Francisco Chronicle regarding Bonds' "did you ever get injected by anyone" testimony that formed the basis of the obstruction of justice charge:
Jury foreman Fred Jacob later described the panel's reaction to that nonsense as: "Come on, you're just telling stories here. Just say yes or no."
And here's Bonds' testimony before the grand jury regarding being injected by anyone besides team doctors and personal physicians: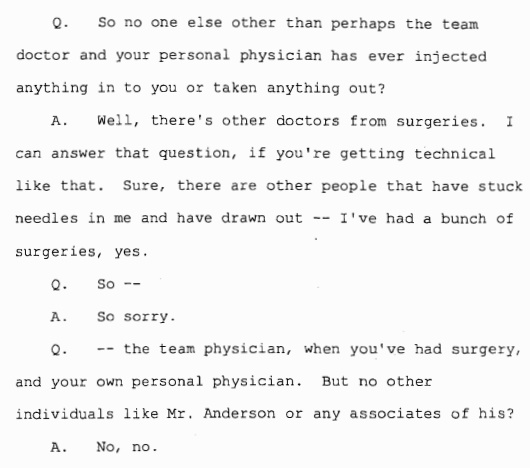 Now, you can say that's a lie (I tend to think it was), but the jury didn't think so. If they did, they would have and should have convicted him of perjury. But they did not.  They instead took the position that Bonds was "telling stories" and not "just saying yes or no."  Except he said no. A straight "no" to a straight question.  And yet the jury found this to be obstruction.
This is proof positive that the jury just punted here.  They decided to "do justice" rather than follow the evidence. I'm not OK with that. You shouldn't be either.