Ring! Ring!
Pete Rose: Hello?
Bud Selig: Pete, it's Commissioner Selig. How are you?
Rose: Awful. Because I'm Pete Rose and my very existence is borderline pathetic.
Selig: That's great, Pete. Hey: I got some good news and some bad news.
Rose: Shoot. The Hit King is listening.
Selig: The good news is that we've repealed the rules against gambling on baseball and have reinstated you.
Rose: Wow! That's fantastic! My dream come true! What's the bad news?
Selig: The bad news is that as soon as we did that, the Hall of Fame Veterans Committee met for a vote and you were rejected.
Rose: Oh no! Why? I have more hits than anyone! I have three World Series rings! What possibly could have possessed them to reject my candidacy?
Selig: That jacket you wore at yesterday's Reds-Brewers game. Dude. Seriously.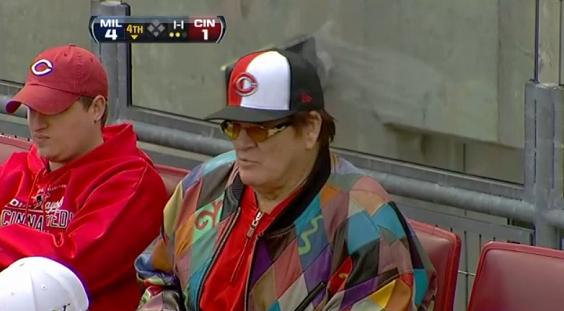 (photo via TedQuarters)