Today the Cleveland Indians were supposed to take on the Columbus Clippers in an exhibition game here in beautiful Columbus, Ohio.  I had toyed with the idea of calling to get a press pass but never got around to it.  I probably made the right decision given the weather here today.  As I look out the window of my fortified compound on the outskirts of town, I see sideways snow and rank misery.
Jordan Bastain of MLB.com was required to drive down here from Cleveland to take in the game. While, sure, the essential stop at Grandpa's Cheese Barn makes the Cleveland-Columbus trip worthwhile, sadly, the game was cancelled after an inning or two due to the weather, thereby rendering Jordan's trip a waste.  He did get a nice picture of Huntington Park, though: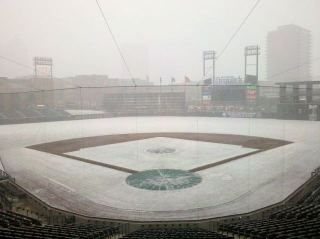 And to think: the Indians open up at home on Friday, 130 miles north of here.  Right now the forecast calls for partly cloudy skies and 46 degrees. Which is downright tropical.
Viva baseball season!