I wrote yesterday about Twins manager Ron Gardenhire being annoyed with reporters using Twitter to relay his words to the public much quicker than they were able to in the past and took particular delight in his frustratedly telling them:
You can tweet that. Just tweet it. You don't even have to write it. Just fire it through the Internet.
"Just fire it through the internet" struck me as a perfect idea for a t-shirt and sure enough, this being the fast-moving internet and all, someone already has produced the product.
And it actually looks pretty good. Here's a closer look at the graphic: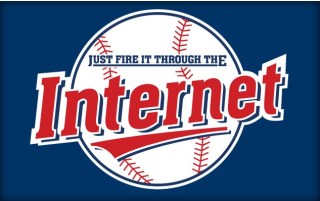 An absolute must-have for any Twins blogger, although a few of us will have to shed some pounds before fitting into an XXL.