I'm in the press box of Phoenix Municipal Stadium.  I can't say for sure how long I'll be here, however, because real estate is at a premium.  Most of these boxes have two rows. The first row is for the beat writers who cover the team every day, the official scorer and people like that.  The second row has spaces for reporters covering the visiting team and a few empty slots. I usually slide into an empty slot.
Here the second row — a full 15-20 spaces, which is large for Arizona — is dedicated to the Matsui Brigade. As in, the Japanese media covering Hideki Matsui.  I've heard tell of the size of that contingent, but seeing the kind of real estate theyoccupy is something to behold.  For now I'm in a visiting media slot.  There a five of them. The Indians are the visitors, so I may be safe.  If Paul Hoynes or Jordan Bastain kick me out of my slot, I'll have no reason to complain.
Get a load of this stadium, though.  It was built in 1964.  That poured concrete facade is the tell.  It reminds me of a government building in Brasilia or something.  Which isn't a criticism, because I rather like government buildings of that era for some strange reason.  They can be hideous in their Brutalism, but they're comforting to me.  They remind me of elementary school. Heck, they remind me of Denney Hall on the Ohio State campus, where I probably spent most of my in-class time as an undergrad.  I'm digging Phoenix Municipal.
Oh, and this doesn't hurt: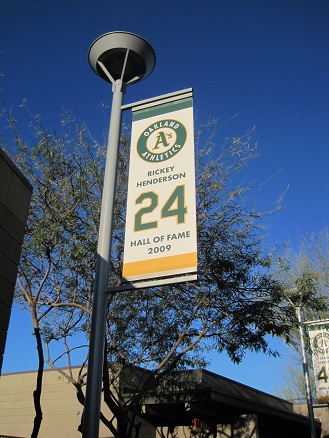 I'm heading down to the clubhouse. I promise to not to tell you if I see anything interesting.