And now, stuff I thought about and observed before learning that Coco Crisp was arrested for DUI last night …
I know I'm dwelling on this a lot, but the extent to which Hideki Matsui dominates things here at Athletics' camp cannot be overstated. From the press box to the on-the-field warmups and even down to the litter you see on the sidewalk outside the ballpark, everything is about Godzilla here.
I don't envy these guys on the Matsui beat.  Talk to U.S. beat writers who cover a given team and you learn that it's not easy coming up with a new angle for a new story every day, and they've got 25 guys plus minor leaguers and coaches to choose from. Now apply that to the a given Japanese beat writer who has to come up with a new angle every single day for one guy.  And figure in the fact that, rather than the 3-5 beat reporters Johnny Beat Writer has to compete with, the Japanese guys have 20. And they're doing it over 5,000 miles from home. Poor sods. But I guess it beats working in an office.
They didn't get to swarm Matsui at his locker this morning, however. The clubhouse was closed due to the annual meeting with MLB Security. Those intrepid souls go from camp to camp this time of year warning ballplayers about the dangers of shysters, bunco artists, grifters, fast women, drug dealers, demon drink and — most of all — Twitter and Facebook. Play cards and carry on all you want, young players, but dear God, watch what you Tweet.
I wandered from the closed clubhouse door and on toward the field when I saw this fellow behind a bench on the third base concourse: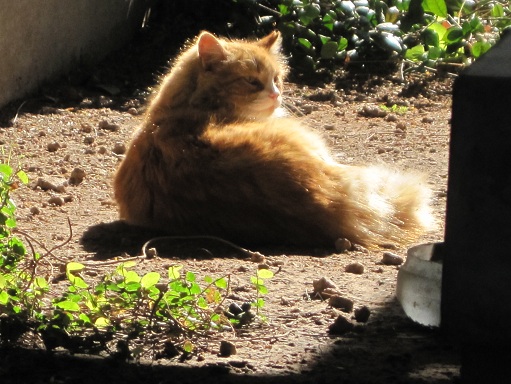 I can haz Trevor Cahill's autograph?
Then I got on to the field and I saw this: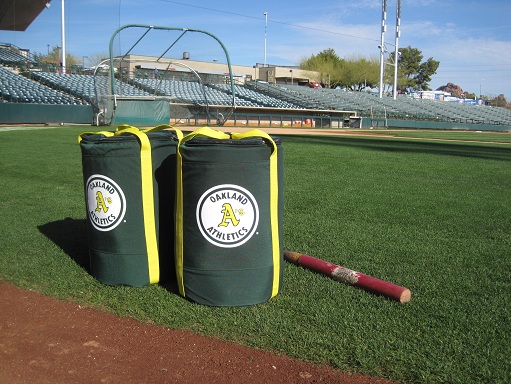 Can't help it. I'm a sucker for the equipment-bag-on-freshly-cut-grass-as-the-sun-comes-up-over-the-ballpark shot.  Oh, and I'm also a sucker for anything Rickey Henderson-related: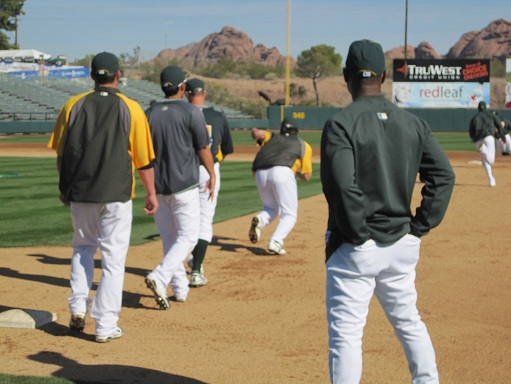 And the actual Rickey Henderson watching Athletics' players doing base running drills is more than a little Rickey Hederson-related. "Rickey thinks that Rickey can still run better than any of y'all," Rickey did not say but I imagine he was thinking.