George:  "Kevin, you and I are pretty awesome, aren't we?"
Kevin: "Yes, George. Yes we are. We could probably make this team if we tried, couldn't we?"
George: "Yes, Kevin, we could.  Oh, Kevin: did I ever tell you about that night I had in Vegas?"
Kevin: "I swear, George, if you tell that story again I am going to have you barred from the facility.  I'm dead serious."
My morning with Francoeur took a lot out of me so I decided to wander and snap photos rather than think anymore deep thoughts.
This place is pretty wander-worthy. Like the Reds and Indians, the Royals do their pregame warmups and BP on the practice fields, but unlike the Reds and Indians the practice fields are right behind the main park, not a mile down the road.  At the risk of giving that poor woman down in the office a heart attack, I walked it.
That, quite obviously, is Royals legend Frank White.  He is watching batting practice as it takes place on Frank White Field.  I find that to be great fun. I also found it great fun that coach Rusty Kuntz walked by right after this. I could not take a picture, though, because I was snickering.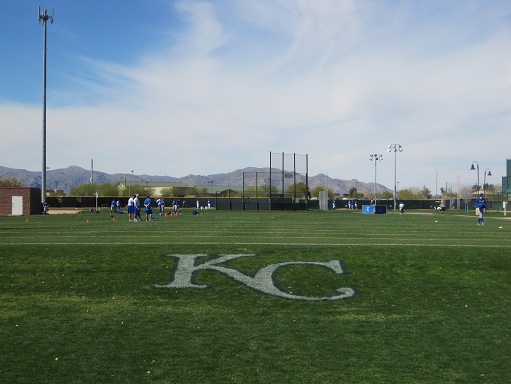 That is grass painted with stripes like a football field.  I suppose it's possible other teams have such fields out in the uncharted backwaters of the western spiral arms of their practice facilities, but I hadn't seen one.  Just before I snapped this I saw a Royals trainer making a Royals player do one of those high-jump drills where the jumper tries to smack those pegs on the top of a pole around.  So basically, it's like the NFL combine here.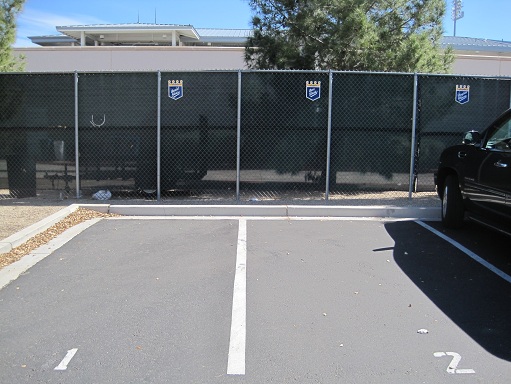 Those are the parking spaces reserved for David and Dan Glass, owners of the Royals.  They are empty.  Those who follow the Royals closely and are aware of just how absent the Glass family tends to be will not be at all surprised by this.
I went back and watched BP after I took that. I stalked Francoeur a little more. Of the five BP pitches I saw him take, he hit three over the fence.  Then Kila Ka'aihue stepped in and murdered baseballs. I think they're still flying as I type this. They have their own FAA call signs at this point. What I'm saying is that he hit the balls really, really hard and that they flew a long, long way.  For those still not getting what I'm saying: BOOM.
I'm going to eat something.  Ballgame in an hour.