I'm not gonna lie to you: it was not the most riveting day at the ballpark.  Low energy game and a low energy crowd. It happens.  Random notes:
The Cubs took the field wearing their full-blown home whites with pinstripes. LOVED it. I'm not a big fan of the lazy looking spring training warmups some of these teams wear. Wanna be professional? Look professional.  Says the jeans-and-untucked-shirt-wearing sports writer.
Also: pitchers batted today. No DH sullying the proceedings. Excellent.
The Cubs played sloppy defense. Three errors as I type this, and the game is still going.  Some nice leather from an unexpected source, however: Ryan Braun.  In the first inning he ranged far to his right to snag a sinking line drive that would have dropped in front of a lot of guys. Then, a couple of batters later he gunned down Reed Johnson who was trying to tag up from third. Braun with the defense. Who knew?
Cubs GM Jim Hendry sauntered into the press box around the third inning and just sort of hung out for a bit.  I've been to about 12 spring training games between this year and last year and that's the first time a GM has just bopped around like that. Fun fact: the number one rule of the press box is that you're not allowed to cheer.  That rule does not apply to the guy who runs one of the teams involved. It made me quite happy, actually, that Hendry cheers and roots like some regular fan.
By dint of the Brewers playing the Cubs, this was easily the most Midwestern Day of spring training thus far.  Lots of Big Ten sweatshirts in the crowd. Lots of guys who looked like this.  I almost felt like I was at home.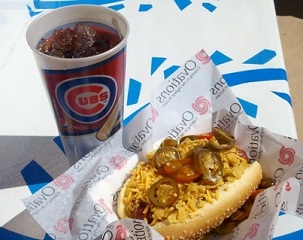 Except that I would never, ever be allowed to eat that hellacious creation to the left if I were at home. My wife is gonna kill me. If my diet doesn't kill me first.
HoHoKam Stadium features organ music. Honest to goodness organ music, not piped in rock or pop.  This gave me a happy.
I wandered the crowd during the fifth and sixth innings. There was a vendor yelling "Lemonade, lemonade, just like grandma made!"  I'm sure he's not the only lemonade vendor on the planet that uses that one, but I liked it.  Another vendor yelled "Old Style! Ice-cold Old Style!" in an extreme Barry White basso profundo. Imagine my surprise, then, when I got a look at him and saw that he was a skinny white blond kid in his mid-20s.
Kerry Wood came into the game to pitch the top of the sixth. He got a standing ovation. A bigger round of applause than the team got taking the field to start the game. Too bad he gave up two runs on three hits and a wild pitch in his inning of work.
Late game substitutions for the Brewers: Cutter Dykstra, son of Lenny. He's someone I'm rooting for.  Also in the game: number 94.  When he was announced no one in the press box could figure out who he was because his name wasn't listed on the roster.  Finally someone figured out it was Reggie Keen. With a number that high and a name that hard to find, I'm gonna go out on a limb here and guess that he doesn't make the 25-man out of camp.
Oh, and when Keen came up to bat in the eighth he was wielding a skinny orange bat that looked like a fungo. He cracked it on a foul ball and substituted it with a new one that looked far more normal. Then he walked.
It's 5-3 in the top of the eighth now, Keen on first and nobody out. I could wait until it's officially over to post this update, but I'm guessing nothing terribly notable is going down.  I'll stay here and watch it anyway. Wouldn't you?
I was originally planning on seeing the White Sox tomorrow, but I may kick them until Thursday because they're playing the Brewers tomorrow and I kind of want to see as many different teams as possible.  As I sit here, I'm thinking — surprise! — it will be Padres-Royals instead.
Seriously: the Royals play in Surprise so even if you weren't expecting anything it is, technically speaking, a Surprise.