I awake to light rain and slightly cool temperatures this morning.  Yesterday, multiple people Phoenix residents apologized to me in advance for this weather, trying to explain it away as though it were some personal failing.  Many locals are having the "will we get the game in?" conversation that most of us have when violent weather systems pass through at game time.  For a day with this forecast: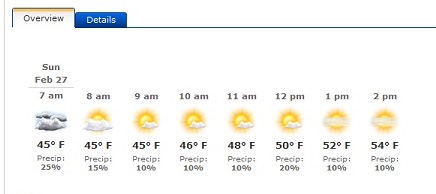 Gee, I hope I survive.
But don't worry about me. I'll try to tough it out.  After all, today I'm going to Goodyear to see the Indians and the Reds, and that's coverage that has to happen, my friends, because I can think of nothing more fun than an Ohio writer taunting people back in Ohio by texting and tweeting them pictures of Ohio-based ballplayers frolicking in the desert.
Even if there's a threat of sub-60 temperatures and a chance of torrential cloudiness.