Doing my standard wander-and-observe thing this morning.  Among the highlights so far:
Mike Scioscia opened up his office for the media at 10AM.  When we came in he noticed a video camera from a member of the Japanese media and said "if I knew there was gonna be cameras here I would've fixed my hair."  One of the other writers — one who, unlike Scioscia, has a full head of hair — sarcastically asked him what, exactly, fixing his hair entailed.  I interjected that I didn't much care for his arrogantly hirsute tone. Scioscia chuckled. I'd like to think we bonded over that.
When things got serious Scioscia, in response to a question about the readiness of Jordan Walden, the Angels' potential future closer, said "just because a player is experienced doesn't mean he's better. And just because a guy is inexperienced doesn't mean he isn't ready."  That has to make Angels fans happy about the prospects, no?
Something else fun from his press conference: Trevor Bell is starting today, but Scioscia was asked who would start the next two days. Scioscia wouldn't say. In fact he said "I'll let you guys know that when I feel … you guys need to know that."  On the walk out of the office an Angels media person said that Scioscia knows, of course, but he just doesn't want his upcoming starters advertised.  I walked immediately back to the press box and within two minutes of Scioscia's deflection I looked at MLB.com's Game Notes page and saw that Scott Kazmir is pitching tomorrow and Joel Piniero is pitching on Monday.  Scioscia needs to get better at the cloak-and-dagger bit.
After that the Angels took the field. Scioscia and some of the veterans started in on some kind of signs drill, in which third base coach Dino Ebel flashed signs and the hitters and base runners carried the play out with a live batting practice pitcher.  Once, when Kendry Morales was up, he laid down a bunt. Scioscia, standing nearby, said "was that the squeeze?"  Morales said yes, it was. Scioscia, unconvinced, yelled down to Ebel "was that the squeeze?"  Ebel confirmed. Scioscia said "I'll be damned. He caught it."
Before the drill, coach Ebel made a signal up to the press box for the staff to cut off the music playing over the PA system.  It went off for the duration of the drill. As soon as it was over Vernon Wells — who wasn't there when Ebel cut if off — realized that no music was playing, turned to the box and yelled "MUSIC!"  Within three seconds "When the Levee Breaks" came blasting out of the sound system.  Vernon Wells would be useful to have around for that sort of thing. He's like Fonzie.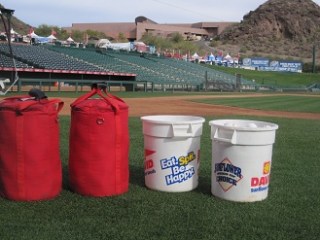 The pic to the right is a bucket full of balls, ready to be smacked around during BP.  I'm sad to see that the good people at David's Sunflower Seeds actually encourage all that shell spitting.  Shameful, David's. Shameful.
About a half hour until game time.  I'm going to get some grub.