Earlier updates from today's doings can be found here and here.  And now here are some other random observations from my day at Salt River Fields:
I watched the Dbacks' catching drills.  I caught a little when I was a teenager and I found it to be very difficult. These guys get their butts beat simply training.  But they also seem to be enjoying it.  I've never watched a defensive drill that was louder and more lively than this one. Each ball in the dirt was met with whoops and cheers and taunting by the other guys.  If it wasn't for all the bruises they were getting, I'd guess that they didn't do anything more fun in their lives.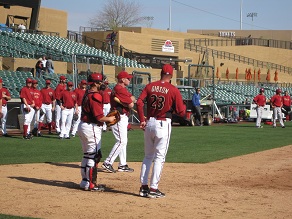 Miguel Montero, Henry Blanco, Kirk Gibson, Kevin Towers and a bunch of other guys were hanging around the batting cage. Montero was complaining that he never "gets the green light" to swing away when it's 3-0.  Towers said "don't complain to me about it."  Montero went on, naming other guys who got the green light, acting as though he was disrespected.  When he was done, Gibson said "Hank gets it too. I even give the green light to Hank," referring to Blanco.  I get the impression that picking on Miguel Montero is a major pastime in the Dbacks' clubhouse.
Speaking of Blanco: he was doing a drill in which he got out of his crouch and ran down to first base.  He's probably one of the slowest guys in baseball, but when you're right next to him you realize that even the slowest guys in baseball are way faster than you are. Remind me of that next time I make jokes about the Molinas and Blanco and others who are not so swift-of-foot.
The big white buckets full of baseballs during BP and fielding drills had "Dbacks" written on them with a marker.  I got a mental image of someone having to do that after the Rockies stole their baseballs.  Really, this place is wonderfully designed and I'm sure they've thought of everything, but I wonder if there are any territorial issues that crop up between teams who share facilities.  I asked one of the ballpark workers about it. These guys know absolutely everything about this place and made it a point all day to tell me about its features, even when I wasn't asking — did you know that at all times, at least 85% of the seats are in the shade? It's true! — but this guy claimed to not know anything about problems arising over equipment and stuff.  Not sure if I believe him. My skeptical side is skeptical.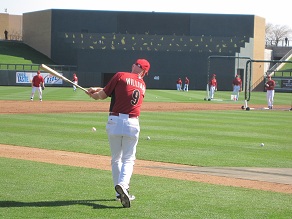 Matt Williams was hitting grounders during infield practice.  This is not newsworthy, but I like to point out that bald guys are awesome.
It was kind of hard to find the Colorado Rockies out here today.  The Dbacks had access to the main stadium field today — their first workout in the stadium itself — so it's understandable that they were easier to find.  Sorry if I gave your team short shrift here, Rockies fans, but one thing I'm finding about these shared spring training facilities is that it still takes a full day to capture any one team's zeitgeist.
As I write this the Diamondbacks have left to go to a team-wide golf tournament. The Rockies are slowly leaving as well, off to enjoy one of the last few afternoons on which they won't have a ballgame in a while.  Tomorrow I go to the Giants' joint in Scottsdale to hang around the World Champions and then to enjoy a real live game between these Dbacks and those World Champs.  In the meantime, I'm going to do a lot of this: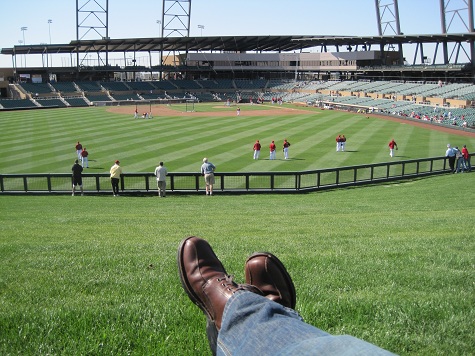 Stay thirsty, my friends.