Pop quiz, hotshot!  You pull your car over to the side of the road as the engine smokes.  You're loaded and drinking from a bottle of scotch and you don't bother to stop when the police officer shows up.  You know that you're less than 12 hours from being the lead story on every sportscast in the country and your teammates and fans giving quotes about how much you let them down.  Oh, and the shirt you were wearing was either too gross or barfed on or whatever for the police to continue letting you wear it, so you have on jailhouse scrubs.
Question:  how happy are you?  Answer: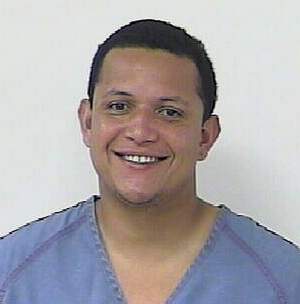 Wow! Pretty happy!  Or just blindingly drunk.
Another possibility, and this is actually serious:  There's a trend out there among defense lawyers to tell their high profile clients to do their best to smile for mugshots for PR purposes. Really. Remember Tom DeLay?  It seems nuts, but lawyers know that the mugshot will be spread everywhere, and no one want their client to have their Nick Nolte or James Brown moment if it can be helped.
I bet Cabrera called his lawyer on the way in to the jail and was told to do his best to look presentable.  Sadly, the whole jailhouse scrubs thing kills the effect.