I'm trying to figure out what Joe Blaton's presence on the dais with Halladay, Lee, Oswalt and Hamels reminds me of more:
(1) Pete Smith being shoehorned into those photos of Maddux, Glavine, Smoltz and Avery in that Sports Illustrated article back in the day to make people think the Braves had "five aces;"
(2) Peter Lawford standing next to Frank Sinatra, Dean Martin and Sammy Davis, Jr. as if he were a co-equal member of The Rat Pack; or
(3) Aquaman hanging out with the actually useful super heroes in the Justice League of America.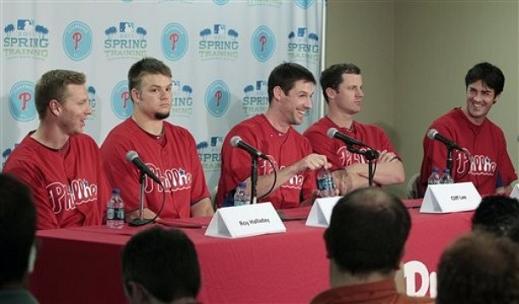 I actually feel bad for Blanton in all of this. Part of me hopes that he rips off a 17-5, 2.98 ERA season while one of the other four stumbles just so he can crow about it back home next winter.