Via Jon Weisman over at Dodger Thoughts comes the most inane headline we've seen in a while.  It's from the New York Daily News, a paper that seems to think that anyone outside of Brooklyn — let alone anyone inside the Dodgers organization — cares a lick about what people in New York think about the Dodgers going to Los Angeles over half a century ago: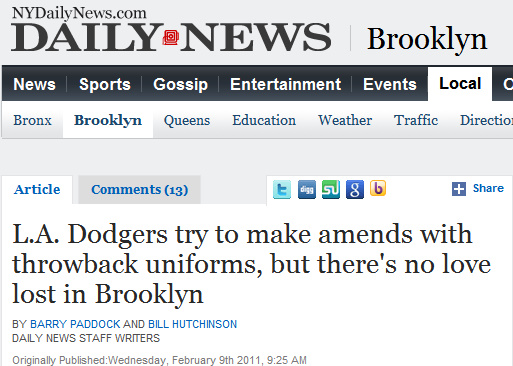 While I suppose there are a lot of people who still wish the Dodgers had stayed in Brooklyn, there are probably only, like, 11 old angry dudes there who actually expect some sort of gesture or apology from the Dodgers over it all. It's been 54 years. Murderers are let out of jail after less time than that. Anyone expecting the Dodgers to "make amends" at this point probably has some issues he needs to address.  And if the Daily News actually realizes this but is simply trying to stir the pot, it should probably realize that there's nothin' in the pot.  Rabble-rousing is kind of pointless when there's no rabble.
The Dodgers aren't trying to "make amends" with their throwback uniforms.  They're trying to make some money.  I can all but guarantee you that the feelings of some ancient grudge-holding Brooklyn Dodger die-hards was not a part of the calculus.