Irwin Raij appears to be a crackerjack sports lawyer. Really: his bio is littered with major accomplishments counseling major league sports teams.  If I had one percent of his juice back when I was practicing I would have made partner and cared about my business more and never would have started this blog.  So when I say this, it's not to denigrate his skills in any way whatsoever. Just to offer a suggestion:
Irwin, really: as time continues to drag on, you may want to consider playing down the top item on your bio. I mean, dude: you got new ballparks built for two teams with no fans. That's huge! But the A's/San Jose thing? Well, at some point, being part of a three-man committee that has taken nearly two years to consider a relatively straight-forward question isn't exactly the most colorful feather in your cap.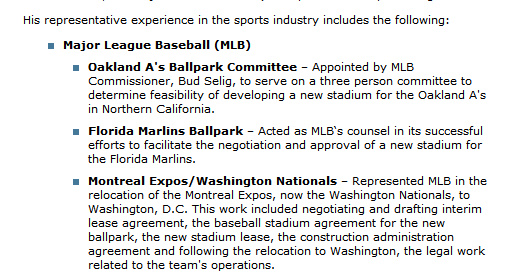 Seriously Irwin, if you read this: you're awesome, and I don't suspect for one minute that it's your committee holding up the works here.  You gotta convince your client to let you release the report that I know you were able to knock out in about ten minutes with your eyes closed, because this is getting silly and the A's are suffering because of it.
(thanks to reader jkcalhoun for the heads up)