The votes are in, and two have been chosen for immortality: Roberto Alomar and Bert Blyleven are Hall of Famers.
Alomar received an even 90%.  Blyleven got 79.7%. Just short: Barry Larkin with 62.1% and Jack Morris with 53.5%. Other notables include Lee Smith (45.3%); Jeff Bagwell (41.7%); Tim Raines (37.5%) Edgar Martinez (32.9%), Mark McGwire (19.8%) and Rafael Palmeiro (11%). The player with the lowest vote total who garnered enough votes to return to the ballot next year is Juan Gonzalez, with 5.2%.  Everyone below 5% will be removed.  There is much to be chewed over in the actual vote totals — and I do so here — but for now, let's focus on the inductees.
A 12-time All-Star and a 10-time Gold Glove winner, Roberto Alomar was the premiere second baseman of his era. He came up with San Diego in 1988, where he played well — not necessarily great — in his age 20 through 22 seasons. His promise was apparent, however.  Alomar truly burst onto the scene when he was made part of one of the more notable trades in baseball history: along with Joe Carter he was sent to the Toronto Blue Jays for Fred McGriff and Tony Fernandez. In Toronto his offense ticked-up and he began his string of six-straight gold-glove seasons.  More importantly he was arguably the most important player on the Blue Jays' back-to-back World Series championship teams in 1992 and 1993.
A free agent following the 1995 season, Alomar joined the Orioles. There his offensive contributions continued to rise — along with the league's as a whole — and so did his profile, both for better and for worse. The better part: he was truly a national star by the mid-90s. The worse: the September 27, 1996 incident in which he spit in umpire John Hirschbeck's face during an on-field argument. An ugly scene, the incident has continued to follow Alomar over the years despite Hirschbeck's public forgiveness. It likely prevented Alomar from being inducted last year, his first year of eligibility.
Alomar had three more years as an elite player following his stint in Baltimore, and they came in Cleveland where he formed one of the greatest double play combinations in modern history with Omar Vizquel between 1999 and 2001. As almost always seemed to be the case, Alomar's teams won a bunch of ballgames, with Alomar himself playing a key offensive and defensive role.
Alomar fell off a cliff following a trade to the New York Mets prior to the 2002 season, however, and he spent his final three seasons bouncing around the league. That precipitous decline notwithstanding, Alomar finished his career with a line of .300/.371/.443, and compiled 2,724 hits, 210 home runs and 1,134 RBI.  That, combined with his stellar defense, makes him one of the best second baseman of all time, and one of the most well-rounded players in baseball history.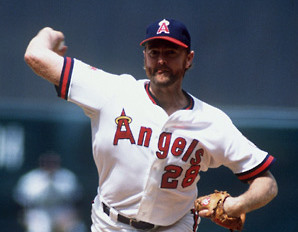 Bert Blyleven was a study in sustained excellence.  While never viewed as truly great during his career — in part because he pitched a time when more elite pitchers roamed the Earth than any other — Blyleven's Hall of Fame resume is nonetheless undeniable.
Given all the ink that has been spilled over his candidacy, his career accomplishments need little introduction. It's worth noting a final time, however, that since 1900, Blyleven ranks 5th in career strikeouts, 8th in shutouts, and 17th in wins. There are only seven other pitchers who rank in the top 20 in those three categories, and they are all Hall of Famers. While many have knocked him for his propensity to give up home runs, five of the seven guys who gave up more homers than Blyleven are Hall of Famers themselves: Robin Roberts, Fergie Jenkins, Phil Neikro, Don Sutton and Warren Spahn.  He may not have "felt" like a Hall of Famer to some, but he is a deserving one by any measure.
Part of the "feel" argument used against Blyleven for so many years was the result of him not playing for many truly high-profile teams. The Twins, Rangers, Indians and Angels never grabbed the headlines during Blyleven's tenure, and the late-70s Pirates had bigger stars holding the attention of the press. Blyleven's national reputation was probably cemented by a couple of random Sports Illustrated articles written early in his career, in which he was portrayed as a talented pitcher who was somehow incomplete. But he grew as a pitcher after that, and he made each of his teams better even if they didn't always support him like other elite pitchers tend to get supported. Indeed, Blyleven's run support was among the worst ever for a pitcher of his caliber. Of Blyleven's 250 losses, nearly 30% were by one run. In all, he lost 115 games by two runs or less. If a starting pitcher's job is to give his team a chance to win, Blyleven more than held up his end of the bargain.
It was a long time coming for Bert Blyleven. And, as was noted yesterday, this day may never have come for him had it not been for the efforts of a few Internet zealots pushing his case.  Thank goodness for the zealots, though, because they were right to push it.
Congratulations to Roberto Alomar and Bert Blyleven. Always elite, now enshrined among the elite.