I said earlier this week that, based on the funky alignment of the gridiron and just how close the brick wall was to the end zone, Wrigley Field looked like an awful place to play tomorrow's Northwestern-Illinois game.  I didn't even know the half of it:
Only one end zone will be used at Wrigley Field on Saturday for the Illinois-Northwestern game because of safety concerns, Illinois sports information director Kent Brown said Friday.

The east end zone is feet away from the right-field wall, and although there is padding, there was still concerns that injuries could take place. Northwestern coach Pat Fitzgerald had said he would have different game plans for the different end zones to avoid the possibility of injury.
The revised one-end zone rules are here.  If only they had, I dunno, a year to figure all of this out.  Or decades of experience with the Chicago Bears playing in that park to have some sort of reference on how to set up a football field there.  Or at least did a simple Google Image search like I did: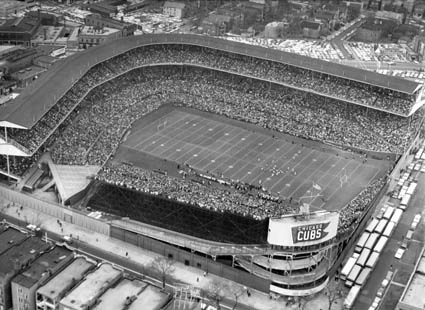 Instead of going out to right field, it went out to left.  It was still a tight squeeze in the end zone on the left, but only at one corner. And of course, back in those days there weren't a ton of fade routes, what with all of that three yards and a cloud of dust stuff. The current alignment has the wall running along the entire back of the end zone and super fast dudes will be streaking all over the place.  My guess, though, is that under the old alignment they would have been just hunky dory.
Ultimately, using one end zone is the right call, because there's just too much risk of injury having a brick wall in the back of the end zone.  But the fact that they're just figuring this all out now, 24 hours before game time, is pretty pathetic.