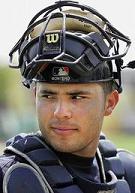 Mark Feinsand of the Daily News reports that the Yankees are going to give 21-year-old catching prospect Jesus Montero a chance to win the starting gig.  He notes that there are still reservations about his defense but, man, Jorge Posada, y'all.  How bad could Montero be by comparison?
Steve S. at TYU has the more interesting angle to this, I think:  it's possibly a bluff by the Yankees in an effort to inflate Montero's trade value.  His argument basically boils down to "Brian Cashman and the Yankees are always lying about their offseason plans in early November, so don't be shocked if they shop Montero."  Pretty compelling argument, actually!
The problem is that we probably really are at a point where Jorge Posada isn't all that viable behind the plate, so if they do deal Montero, who catches? Austin Romine is the same age as Montero, but he's only got one sort of "meh" year at Double-A under his belt.  The Yankees could try to sign a solid defensive catcher to bridge the gap, but you hear that kind of thing all the time. Fact is, people who think solid defensive major league catchers are freely available out there are rather deluded. You got, what, John Buck? Yorvit Torrealba? Pierzynski? Are there any spare Molinas lying around? It's harder to just pick up a catcher like that than you think.
My guess — based on nothin' really — is that they give Montero a real shot at the job. If for no other reason than that the Yankees are going to need to have some younger offensive producers eventually, and there aren't many hitting prospects out there better than him.