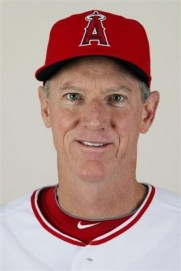 Great story by Adam McCalvy at MLB.com about Ron Roenicke, who will soon take over the Brewers.  Seems that in the aftermath of Nick Adenhart's death last year, Roenicke was instrumental in helping to pull the team together. He particularly impressed Scott Boras, Adenhart's agent, who was in the clubhouse along with Adenhart's father and Angels players the day everyone learned of the awful news:
"Nobody knew what to say. There was an air in the locker room of shock, bewilderment. None of the players knew if they should approach Mr. Adenhart. And Scioscia said, 'Ron would like to say a few words.'

"Let me tell you something — I've met presidents, I've heard a lot of people speak. And the 10-minute conversation he had with the Angels that day, the eloquence of it, the depth of it, and the impact of it, it was one of the most dynamic conversations that I've ever heard in my life. In the most difficult situation you can be in, this man was clearly at his best, and it was natural, it was instinctive. I realized that this was a born leader."
Baseball isn't football, and "win one for the Gipper" speeches only go so far.  But being able to connect with others in the clubhouse — to empathize and to help them overcome mental or emotional problems, big or small, and ultimately to inspire — does seem pretty valuable. Boras and McCalvy and others quoted in the article think that Roenicke has that talent in spades.
If so, the Brewers may have made a very wise choice in their next manager.