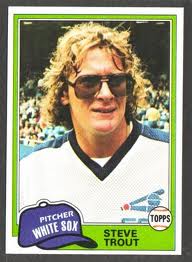 The good folks at Topps would like you help celebrate the company's 60th anniversary by voting on the top 60 cards of all time.  And it's a really cool interface, with nice pics of baseball cards you either remember having or coveting at one point or another. Total time suck.
The only problem: way, way, way too many great cards didn't get nominated. I mean, say what you want about the merits of a 1967 Mickey Mantle, but how is that one of the top Topps cards ever? It's more sad than anything in my view in that it's really the first card to show The Mick's age. Kind of an awful card in that respect.  There are tons of classics missing and tons of pedestrian cards of superstars.
No Oscar Gamble?  No Carl Yastrzemski with the big sideburns?
Weak.