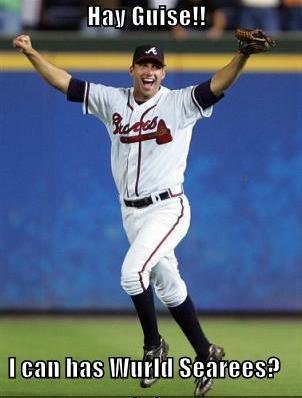 And because a zillion people have asked me already, no I am not suffering any existential angst by virtue of my arch nemesis, Jeff Francoeur, making it to the World Series. If anything, it's the best thing possible. Why? Because my frustration with Francoeur has always had less to do with him personally — though, believe me, he was frustrating — than it has to do with the Francoeur Industrial Complex, epitomized by the Atlanta Journal-Constitution and more recently the New York tabloids who worked overtime to play this guy up as an emerging superstar against all evidence to the contrary. Meanwhile, for the better part of five years I and other like-minded souls have argued that he'd only be acceptable as a backup outfielder deployed as a defensive replacement and occasional fill-in against lefties.
Now that he is on a team that has placed him in that role, he has found success. This is not a coincidence. And hopefully, it's a learning experience for everyone.
Oh, and here's a nice runner-up Photo of the Weekend.