I'm going to admit up front that I'm flummoxed. I've gone back and forth on this thing two or three times now.
In real time, Robinson Cano's homer to right in the second appeared to be a case of fan interference, with those awesome, awesome fans in the front row slapping Nelson Cruz's glove. When it happened I stood up in my living room, outraged, and took Jeffrey Maier's name in vain.
Then I saw the replays. At least the TBS replays. All of them made it seem like it wasn't interference. It appeared — looking squarely at the wall from the infield — that Cruz reached beyond the wall. And when you do that you're doing so at your own risk pursuat to the rules of baseball.  Yeah, part of me wishes that fans would stay away from a fielder even when he's doing that, but I wish a lot of things that aren't likely or, oftentimes, even reasonable. Fine, I thought. Homer.
But then I saw this picture: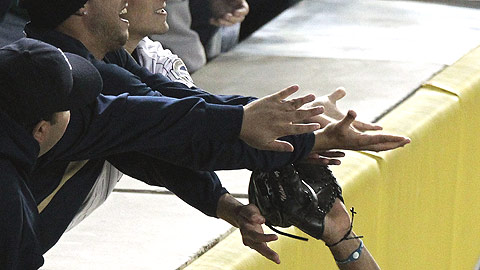 Sure looks like fans smacking Cruz's glove on the field of play to me. Wouldn't you agree? And it's not like it's really incidental. That white looking stuff behind the yellow of the wall is a couple feet of concrete that, theoretically anyway, separates fans from the field of play. Regardless of where the ball would have come down — it appeared on that concrete — our friends in the front row there had to make an extra special effort to hit Cruz's glove right there. If someone has better video or photographic evidence I would like to see it, but barring that I'm now inclined to say that the call was wrong, Cruz was interfered with and Cano's homer shouldn't have stood.
Of course the elephant in the room here is why this play wasn't reviewed in the first place. Right field umpire Jim Reynolds was pretty far from this play. How could he see it clearly? Even if you think I'm wrong and this wasn't a case of fan interference, Reynolds' call to that effect was just a guess. Just a couple of batters later he got the call wrong on Lance Berkman's non-homer. Thankfully replay was utilized to overturn that one.  Why was it not utilized to review Cano's blast? Reynolds was far from the action on both occasions.
The official answer is that some calls are boundary calls and some are judgment calls and blah, blah blah. I won't have it. There are two kinds of calls. Correct calls and blown calls. And there is no excuse for baseball not allow and encourage the umpires to utilize the technology that is easily at their disposal to get the calls right. It may not have made a difference in the outcome of last night's game. But someday soon it will.  And when it does, all hell is going to break loose.