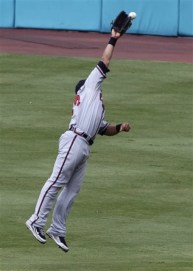 I haven't seen anything official on this yet, but MLB.com's Fantasy 411 outfit is reporting that the Braves have released Melky Cabrera. This causes me to ask several questions:
Do we measure the time it will take for the Pirates to sign Melky in seconds, milliseconds or nanoseconds?
Do the Yankees declare victory in the Javy Vazquez trade because theirs is the last tomato can standing?
Will the Braves have someone standing behind Melky as he cleans out his locker in the likely event that he drops something?
I could probably go all day with these things, but I'll stop now and pour one out on the ground for my departed homey, Melky Cabrera. One milkshake, that is. I think he would have wanted it that way.