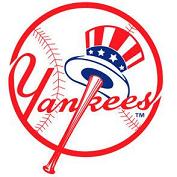 As you listen to the TBS guys talk about Cliff Lee, potential free agent tonight and begin to despair over the fact that the Yankees can just buy any great player they want, remember that the true power of their financial resources is not best seen in the superstars they acquire. It's best seen in the duds they endure:
The true muscle of the Yankees' resources is not just outbidding the competition for Sabathia by $30 million. It is the ability to shrug off the mistakes like Jared Wright, Carl Pavano, Kei Igawa, Jeff Weaver, Kevin Brown and — soon to be added to this dubious list — A.J. Burnett.

Cashman has thrown away about $250 million on failed pitchers, and that's a conservative estimate.
That's from Steve Politi of the Star-Ledger, making the point that I tend to forget way more than I should.