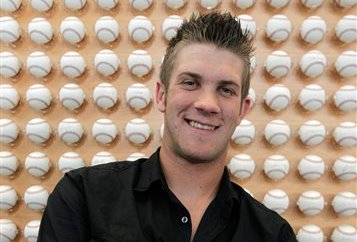 Unlike the case with previous Scott Boras clients, I haven't heard anyone make even a plausible suggestion that Bryce Harper would try to go back to school, play in the independent leagues, go to Japan or do anything else other than sign with the Nationals before the August 15th deadline.  Nevertheless, reporters keep asking the team how they feel about it. Here's MASN's Byron Kerr:
In Cleveland, I got the opportunity to speak with Nationals General
Manager Mike Rizzo regarding this year's #1 first-year player selection,
catcher/outfielder Bryce Harper.

Mike, having worked with agent Scott Boras while signing Stephen
Strasburg last season, does that give you a leg up in the negotiations
with Bryce Harper this year?

"Each case with each individual and each representative is unique.
We are not going to put any timetables on it. We feel with Bryce like
we did with Stephen, if two parties want to make a deal, a deal will be
made. So, we are optimistic about it."
Which is what Mark Lerner said last week. And if that's not good enough, the Washington Post's Adam Kilgore recently spoke with Harper's college coach who said that Harper's own parents are firmly in the "we don't want to hold out; we want to sign and get this over with" camp.
It's Boras, so we can fully expect the signing to wait until the absolute last minute before the deadline, but Harper is going to sign with the Nats. Which will be more boring than seeing him abuse Northern League pitchers, but which makes total sense for everyone involved.