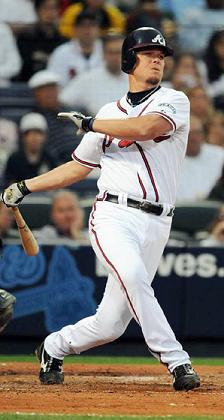 UPDATE: O'Brien Reports that Jones is meeting with Bobby Cox and GM Frank Wren today and that afterward he will address the media.  It seems apparent that announcing his retirement is the purpose of the meeting and press conference.
11:00 A.M.: David O'Brien of the Atlanta Journal-Constitution just tweeted that, while unconfirmed, Chipper Jones has told people that he's going to retire at the end of the season.
This would not shock me. He already made noises about this last season and earlier this season, and he has been a non-factor as the Braves have climbed into first place in the NL East.  When he has played Jones has hit .228/.375/.341.  His primary replacement, Omar Infante, has hit .314/.351/.387.
It would be one thing if the Braves were playing terrible baseball — maybe Jones would feel like he was badly needed or something — but any sensible person in Jones' position would realize that, however hard it is to admit, the Braves simply don't need his production anymore.  And though I respect Chipper Jones as a player and am grateful for all of his accomplishments on the field, I look at the $26 million he's owed for 2011 and 2012 and wonder just how much the team could be improved if it was devoted to finding an outfielder or two. I bet he thinks about that too. At least when he's not thinking about how nice it would be to spend more time fishing and stuff.
Still no official word from Jones or the team, of course, but let's speculate about a couple of things.  First point of speculation is not exactly a stretch: if Jones retires after this year, he joins Ken Griffey Jr. as a first-time inductee in 2016.  I think this is a lock. He's one of the top third basemen of all time, he has an MVP Award, a World Series ring, a reputation for coming up big in big situations, he's never been accused of PED use and he was the one offensive constant (or at least near-constant) for the Braves' run of division titles.  I'll take — and subsequently dismiss — counterarguments in the comments.
Second bit of speculation, but much, much wilder: Chipper Jones gets named as the Braves' new manager next year.  OK, maybe that needs about ten more "wilds" in front of it, but he's been at Bobby Cox's right hand for the past 16 or 17 seasons, he's smart, and he has what seems like the right kind of temperament to handle the job.
Does he have the desire? Hell if I know, but at least it gives us something to talk about while we wait for Jones and/or the team to either confirm or deny O'Brien's report.