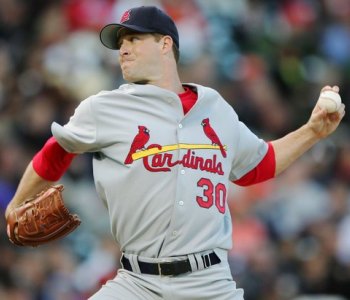 This may register as the least surprising news of the day, but Mark Mulder — former member of the "Big Three" in Oakland — has announced that he has officially retired.
I think the only person this may be news to is Mulder's agent who, back in February, when reports of Mulder's retirement first surfaced, said that Mulder was going to pitch again. But even at the time Mulder and his friends were basically admitting that he was done.  If he threw one pitch in anger between then and today I'd be shocked.
The Big Three of Mulder, Zito and Hudson were overlooked in general — some people think that those A's teams won all of those games only because Billy Beane took all those walk (er, or something) — but Mulder may have been the most overlooked of the Big Three.
Hudson was
considered the ace and Zito got his gigantic contract, but Mulder was no slouch. He won 21 games in 2001, 19 in 2002 and pitched well in the playoffs. Sadly,
his shoulder went pop a year after joining the Cardinals. After a good
2005 season, 2006 was cut short, 2007 and 2008 were near total losses
for him. He didn't pitch at all last year.
You can look at Mark Mulder and ask what could have been, but you can also look at what was and say that it wasn't too damn bad. 
Have a nice retirement, Mark.