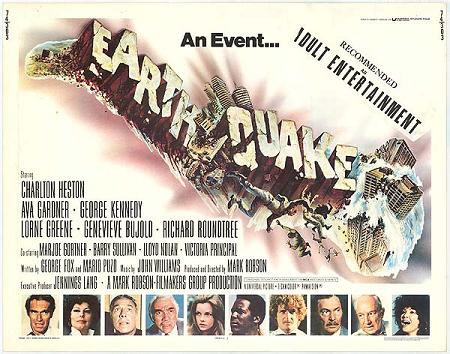 Just four games, so not a lot happened. That is, unless you count an ally-oop home run, the best player in baseball having a ball bounce off his head and freakin' earthquake interrupt the eighth inning as "not a lot."
Blue Jays 6, Padres 3: Nothing notable here other than AN EARTHQUAKE IN
THE EIGHTH INNING. "They happen so fast that there's nothing you can
do," Cito Gaston said after the game.  Yeah, if they'd just slow down a bit
we'd be able to get over to the control panel which operates our
inertial dampeners, thereby mitigating the effects of the quake. Two
homers for John Buck, by the way. He's from Wyoming and cowboys aren't
afraid of earthquakes.
Giants 10, Orioles 2: For those keeping score at home, the 2010 Orioles
now have an identical record to the 1988 Orioles at the 64-game mark. 
Time to hire Frank Robinson?
Brewers 12, Angels 2: Casey McGehee had a home run, but only because Torii Hunter gave him an assist. Or maybe McGehee gets the assist and Hunter gets the points, because it was basically an ally-oop play. McGehee also took Erik Aybar out of the game with a breakup slide at second. Looked clean to me. The real problem there was the throw from Kevin Frandsen at first base, which required Aybar to reach back for the ball with his leg fully extended. I'm assuming Mike Scioscia had a problem with the throw too, considering that he took Frandsen out of the game immediately after that play.
Cardinals 9, Mariners 3: Rough day at the office for Albert Pujols too, as he took a throw off his head as he was scoring from third. Not that rough, however, as he reached base all five trips to the plate. Overall Tony La Russa's rejiggered lineup — with Matt Holliday in the two-hole — scored nine runs. I'm sure it had everything to do with La Russa's genius moves and nothing to do with the fact that the Cards were facing Luke French and Ian Snell.