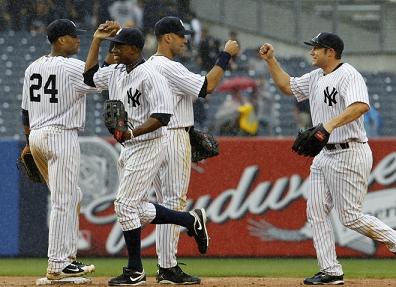 Here were last week's Power Rankings. Now for this week's. I've just received word that the Emperor has dissolved the Senate permanently, the Yankees are on top, and the last remnants of the Old Republic have been swept away.  Fear will keep the other teams in line. Fear of this battlestation!
1. Yankees: There was surprisingly little dissent when I put the Bombers first last week even though I was trying to be provocative. I suppose there is no reasonable basis for dissent now. Tied for best record in baseball, best run differential, coming off a good week.  They're the Empire, and they're back where they're used to being.  Get used to it, Ewoks.
2. Rays: They're just out of sync lately.
3. Braves: Atlanta ends an 11-day, 11-game road trip 6-5. Not too damn bad
considering that seven of those games were against the Twins and the
Dodgers and Jason Heyward was in a pretty fair slump during the first half of it.
4. Red Sox: Nothing spectacular, but the Sox have been one of the best teams in baseball for most of the last month. This despite no Ellsbury, no Beckett, no Dice-K.  Just slow and steady. They should be called the Boston Tortoises.
5. Padres: I like it when a team that wasn't expected to compete plays well, because you get people saying stuff like "The Padres control their fate now. If they win out, the win the NL West."
6. Dodgers: I'll admit, this jump was fairly large for a team that has only won five of its last ten. Consider this me owning up to the fact that I pretty criminally underrated them last week. As many pointed out, they were basically an identical team to the Braves since the season began. I don't think they're as good as the Braves so I would have ranked them lower than Atlanta last week, but the point is a good one, and this is probably where they need to be.
7. Twins: The Twins haven't been scoring runs in June. I guess it's a long way down from Orlando Hudson to the tripe Ron Gardenhire has been trotting out there since his injury.
8. Mets: The sweep of the Orioles is what you want to see from a team who thinks it can contend and the Indians are dead ahead, which should be some more cake. But then come the Yankees, Tigers and Twins. I like the current trajectory, but I'm going to refrain from calling the Mets official contenders until they get through that patch.
9. Reds: Jeff Brantley does Reds radio. He was awful when he was on ESPN but I've actually come to like the guy on Reds broadcasts. Not that he adds any decent insight — he really doesn't — but he's a hokey, guilty pleasure. A couple of years ago he started talking about how much terrible food he eats while on the road. No hint of guilt to it: just matter-of-fact "I ate four scoops of ice cream last night, Mahty, and it was pretty dahn tasty."  At some point someone told him that bit is hilarious, because he's now doing ads for sub shops and stuff. One of them is for a two-sub special. Brantley says –in a serious drawl —  "I get two footlongs for twelve niney fahve. I call one mah startah, and one mah closah!"  It's probably the best thing going on baseball radio right now.
10. Giants: It's amazing how much easier it is to win when you pair offense with
good pitching instead of just going with the latter. The Giants have
been doing that pretty well for the past week.

11. Cardinals: The Cardinals are under .500 for May and June.
Given their talent they really have no business being in second place,
but there they are.
12. Rangers: Holding off the Angels, but just barely. Nothing
personal against Oakland, but I'd really like to see this be a two-team
race for the rest of the season so as to put an end to that musical
chairs thing going forward.
13. Angels: Kendry Morales? Who's Kendry Morales? The Angels have
won eight of ten.
14. Blue Jays:  This is a big drop. I'm truly not trying to be
unfair here. I'm just struggling
to see who I place below them. This is the case for a lot of teams who
took a tumble this week. They didn't play too terribly, necessarily, but
a number of teams (e.g. the Mets, Rangers, Angels) made a surge that
needed to be rewarded, so a bit of a bad week was penalized more than
usual. Not that Toronto had a great week or anything . . .
15. Phillies:  Another one that was knocked pretty hard, but
let's face it: they're now down to third place, they were blown out by
the Red Sox in two of those weekend games and they're now making us
question whether we should be calling this current patch a slump or the
early part of the season a fluke.
16. Tigers: Sweeping Pittsburgh was nice. Dropping two of three
to both the White Sox and Royals was not. 
17. Rockies: The lowest ranked team above .500. That seems about
right to me.
18. Marlins: Nice first week for Mike Stanton — .368/.425/.526
— though the man noted for his power is still searching for his first
homer.
19. Athletics: Swept back over the Bay Bridge by the Giants. But I
think you only play tools heading westbound, so it was an easy trip
back.
20. Nationals: How long will it take everyone to get over the
Strasburg hype and notice that the team has generally been on a downward
spiral for the past few weeks?  I'm guessing the honeymoon lasts until
late July, at which point everyone will be freaking out about whether or
not Bryce Harper is going to get signed.
21. White Sox: The Sox took two of three from the Cubs and now
have the advantage in the battle for the
BP Cup!  So, like, I assume they'll try to tank the next series so
they don't actually have to claim ownership over something as dubious as
the BP Cup.
22. Cubs: Ted Lilly looked like he was working really fast to get
that ninth inning started last night so as to finish his no-hitter
before the rain got too heavy. I wonder if that's what made him give
Juan Pierre such a good pitch to hit to break it up or if he would have
attacked him like that anyway. I guess attacking him was the right move
regardless — it's Juan Pierre, after all, not Willie McCovey — but I'm
guessing the rain had something to do with it too.
23. Royals: Still over .500 with Ned Yost at the helm! (15-14).
24. Brewers:  The Brewers have the distinction of being the
lowest ranked team anyone really thought had a chance to do anything
this year.
25. Indians: A nice week, actually. Splitting with the Red Sox is
like a series win for them, and two out of three from the Nats is nice
too. And what with the 16,000 extra fans for Stasburg, yesterday was
kind of a win too.
26. Astros: No shame in getting swept by the Yankees. Taking
three of four from the Rockies was pretty sweet.  Of all of the bottom
dwellers of these rankings, the Astros have the best chance of breaking
out and climbing into the ranks of the merely "meh."

27. Diamondbacks: I'm assuming the Dbacks are about to sell off
everything that isn't nailed down.
28. Mariners: I'm still tickeld that Milton Bradley is emerging
as a team leader these past few days.
29. Pirates: Plenty of seats still available at one of baseball's
prettiest parks!
30. Orioles: Pfun Pfact: if the Orioles lose tonight, they will
have the same record at this point in the season as the 1988 Orioles
did! You know, those awful, awful 1988 Orioles who started the season
0-eleventy-seven?  Good times, good times . . .