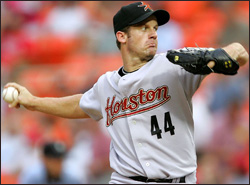 UPDATE:  Now the Fort Worth Star-Telegrams is calling applesauce on my report.  GM Jon Dainels didn't directly deny it, but he did say "you can probably figure this one out," suggesting that it's not happening.
And as I said before, there is a difference between a deal happening and one being discussed. I stand by my report that the Astros and Rangers have talked about a deal and got fairly far along in the process. I also acknowledge — as I did earlier — that making such a deal would be outrageously difficult given the Rangers' financial constraints.
For those of you calling the whole thing into question, I had some things to say in the comments with respect to my philosophy about dealing in the trade rumors game. Short version: sometimes people are wrong, sometimes people are right. Quite often there's no telling who was wrong and who was right (e.g an the lack of an Oswalt-to-the-Rangers trade does not debunk my report that there were talks of one).
My view is that I pass on what I hear from credible sources (and my source for the Oswalt report is credible), attempt to give enough context to the information I've received to where people can at least attempt to judge it on its merits and do my best not to oversell what I'm hearing, which is what I've done here.  Finally, if things turn out to be wrong, I try to do my best to get the right information out there, which is also what I've done here.
5:33 P.M:  Buster Olney tweets that he's spoken with a highly placed Rangers source and that there's "nothing to it." Meaning my report.  I'll obviously keep looking into it, but at this point we've certainly got to say there are conflicting reports.
4:52 P.M.: A major league source is telling me that the Rangers have been talking to the Astros about Roy Oswalt and that the teams are "getting closer" to having a deal in place.  It's not yet clear which player(s) would be coming back from Texas to Houston, but my understanding is that the live bodies part of the deal is more or less agreed to.
But in place is not the same thing as done: the sticking point: the Rangers are trying to convince Major League Baseball — who holds the purse strings until the sale of the Rangers is complete — to allow them to take on Oswalt's salary.
It's also unclear — but I'm sure some of my bankruptcy expert readers could tell me — if the bankruptcy court would have to give approval for the Rangers to take on new obligations in such a deal.  On the one hand Oswalt's salary represents a boatload of money and the Rangers are in bankruptcy. On the other hand, a bankruptcy court tends not to oversee the normal hiring and firing of employees of bankrupt companies that are otherwise going concerns.
Whether it's just MLB or MLB+bankruptcy court signoff that is required, such a deal will take some serious begging. As everyone knows, Oswalt is owed pro-rate $15 million this year, $16 million next year and a $2 million buyout if his 2012 option — which is also worth $16 million — isn't picked up.  Meanwhile, Major League Baseball currently has a line of credit out to the Rangers just so they can cover expenses on the team. A team that is in bankruptcy, by the way.
So yes, there are a lot of "ifs" here at the moment. But unlike the multiple reports we've seen in the past several days regarding where Roy Oswalt would theoretically allow himself to be traded, we know right now that there are at least two teams — the Rangers and the Astros — who would like to see him pitching in the Dallas Metroplex, complicated financial considerations willing.