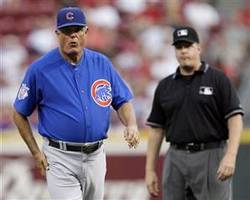 Heyman's new column is mostly about the starting pitching market, but there's not a ton new there.  Here's something interesting, though: the Cubs management is worried about Lou Piniella's health.
I'm glad I'm not the only one who's been thinking this.  Watching Piniella make that pitching change in the ninth last night was highly uncomfortable. I suppose it's possible that his slow walk was to give Carlos Marmol a few extra pitches, but this is not the first time I've noticed it during Cubs games. He's got this slow heel-toe thing going on — not to mention the beach ball gut — that I've noticed in relatives whose health was on the decline. I mean, getting fat is one thing, but carrying an anvil in front of an otherwise normal body just looks kind of . . . scary.
I obviously have no idea what the state of Piniella's health is — I'm just reacting emotionally to what I've seen of him — and I obviously hope he's fine.  But the look about him combined with what Heyman's sources with the Cubs are saying is rather unsettling.